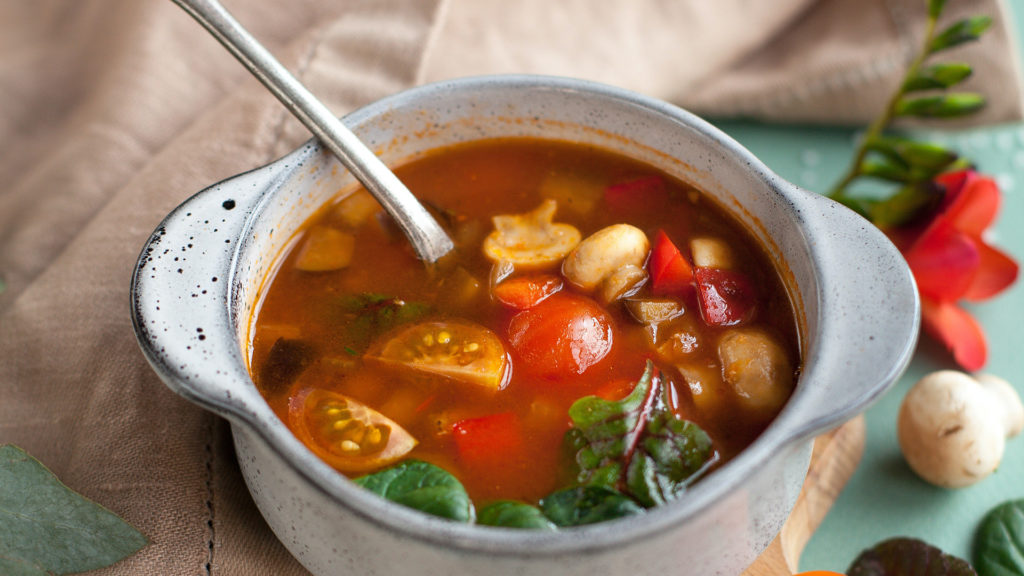 With the start of the new school year, now is the time to revamp lunches for yourself and your family! Love & Lemons has many recipe ideas packed full of vegetables and healthy nutrients to power your body. Check out a few of the recipes below and click here to view a full list.
Ingredients:
2 tablespoons extra-virgin olive oil
1 medium yellow onion, diced
Sea salt and fresh black pepper
1 medium carrot, diced
1 small sweet potato, diced
¼ cup dry white wine
1 14.5-ounce can diced fire roasted tomatoes
4 garlic cloves, chopped
2 teaspoons dried oregano
¼ teaspoon red pepper flakes
4 cups vegetable broth
2 bay leaves
1 cup halved cherry tomatoes
1 cup chopped green beans
1 zucchini, diced
1 15-ounce can chickpeas, drained and rinsed
2 tablespoons white wine vinegar
1 ½ cups chopped kale
Instructions:
Heat the oil in a large pot over medium heat. Add the onion, ½ teaspoon salt and several grinds of pepper. Cook, stirring occasionally, for about 8 minutes. Add the carrot and sweet potato. Stir and cook for 2 more minutes.
Add the wine and cook for about 30 seconds to reduce by half, and then add the canned tomatoes, garlic, oregano and red pepper flakes. Stir in the broth and bay leaves. Bring to a boil, then reduce the heat to a simmer and cook, covered, for 20 minutes.
Stir in the cherry tomatoes, green beans, zucchini and chickpeas. Cover and cook 10 to 15 more minutes until the green beans are tender.
Stir in the vinegar, kale, an additional ½ teaspoon salt and more pepper. Remove the bay leaves before serving.
Ingredients:
1 cup uncooked chickpeas, soaked 24 hours, drained, rinsed and patted dry
½ cup chopped shallot or yellow onion
3 garlic cloves
1 teaspoon lemon zest
1 teaspoon ground cumin
1 teaspoon ground coriander
¾ teaspoon sea salt
¼ teaspoon cayenne pepper
¼ teaspoon baking powder
1 cup chopped fresh cilantro leaves and stems, patted dry
1 cup fresh parsley leaves and stems, patted dry
1 tablespoon extra-virgin olive oil, plus more for drizzling
For Serving:
Pita bread
Hummus
Diced vegetables, such as tomato and cucumber
Fresh herbs, such as chopped parsley and mint
Pickled red onions
Tahini sauce
Instructions:
Preheat the oven to 400 F. Line a large baking sheet with parchment paper.
In a large food processor, place the chickpeas, shallot, garlic, lemon zest, cumin, coriander, salt, cayenne, baking powder, cilantro, parsley and olive oil. Pulse until well combined but not pureed. Use a spatula to scrape down the sides of the bowl as needed.
Use a 2-tablespoon scoop and your hands to form the mixture into 12 to 15 thick patties. If they are not holding together, give the mixture a few more pulses in the food processor.
Place the patties on the baking sheet. Drizzle generously with olive oil and bake for 14 minutes. Flip and bake for 10 to 12 minutes more or until golden brown and crisp on the outside. During the last few minutes of baking, wrap the pita in foil and warm in the oven.
Assemble pitas with a slather of hummus, diced vegetables, falafel, herbs, pickled red onions and generous drizzles of tahini sauce.