Property Spotlight: Mary-Leila Lofts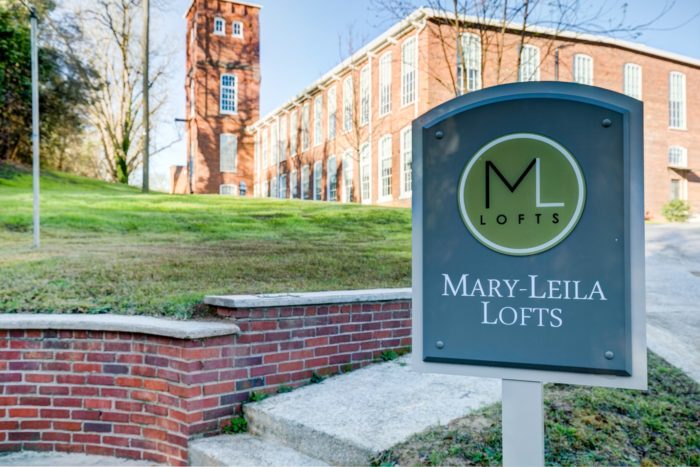 Mary-Leila Lofts, located in Greensboro, Georgia, officially opened in October of 2016. The 71 loft units are housed in what used to be the Wellington County Mill – a cotton mill that employed many of the residents of Greensboro and even a few of the residents of what is now Mary-Leila Lofts.
Bertha Broadnax, the community manager, enjoys showing the historical aspects of the lofts. Not only are there many units that have the original hardwood floors, but there are also pictures on the walls of the lobby from when the cotton mill was running.
One resident, Bettye Kimbrough, worked at the mill when it was still operational. "I never would have thought it would have looked like this. Who would have thought it would turn into a place that you could live at? But I'm glad it did, because it's nice. I really like it," says Kimbrough.
Broadnax is touched by the connection that so many have to the property and comments, "a lot of people are drawn over here now because it was great for them to work, and now it's great for living." Though she didn't work at the mill, she was born and raised in the county. "I love the residents, I love the community, and I just love to give back and work for the people that I'm used to," says Broadnax.
Like Broadnax, many of the residents of Mary-Leila lofts are from Greensboro and the surrounding area, so the neighbors form a tight-knit community. One of the residents, Mark Reid, is an author working on his third book. His cousin lives on a different floor of Mary-Leila Lofts, and he knows a lot of the people in the community. Being located in Greensboro, Georgia hasn't stopped him from setting up his loft, "New York-Style." A hallway leading into his apartment sports photos and paintings before opening up to the main room. He loves the tall ceilings and overall feeling of his loft; "I have three tall windows and the sun just shines in. You get peace and serenity. I love it," says Reid.
Reid is not the only one satisfied with his apartment. Resident Alice Stephens loves the size and uniqueness of her family's loft. "My kids…they love it, because it's roomy," she says.
Another resident favorite is the fitness center. Broadnax says that it gets utilized often since the only nearby fitness centers are about a 20-minute drive away and come with hefty membership fees. "I love that this is being offered to the residents here because it saves you money—and they've been utilizing it. They love it. Everybody is trying to stay fit and stay healthy and I love that they have an opportunity to work out at home" says Broadnax.
Reid thinks other communities could greatly benefit from having something like Mary-Leila Lofts in their town. "Individuals my age would love something like this. I just think a lot of counties would love a building like this in their town," he says.
As for the day-to-day of Mary-Leila Lofts, Broadnax says she enjoys a lot of interaction with her new residents. "The tenants are stopping by with their concerns or just continuing to let me know that they love the building, they love the atmosphere," she says.
To contact Mary-Leila Lofts in Greensboro, Georgia, visit their page on the Fairway Management website.