Quarterly Recipe: Healthy and Filling Summer Salad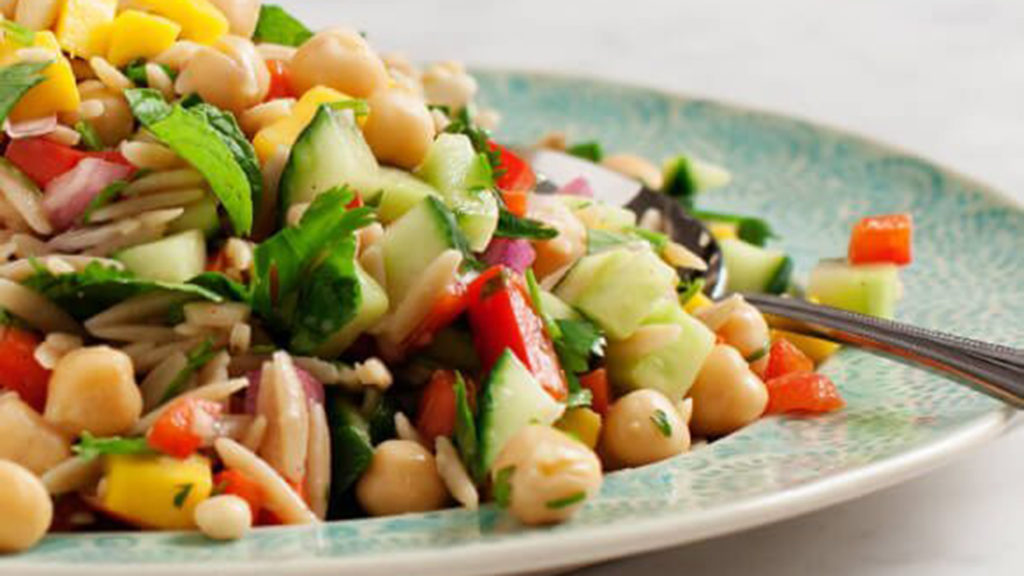 Photo credit to Love & Lemons
Looking for a flexible, easy-to-make summer salad that will actually keep you full? Look no further than this rainbow orzo salad from Love & Lemons. This salad will not only satisfy your appetite but also keep you feeling light and fresh this summer! Feel free to substitute out ingredients for any other favorite vegetables or salad toppings you have on hand.
Rainbow Orzo Salad
For the Salad
1 red pepper, diced
1 ripe mango, cubed
1 small cucumber, chopped (1½ cups)
½ small red onion, diced (1/3 cup)
1 small garlic clove, minced
1 (14-ounce) can chickpeas, drained and rinsed
Chopped fresh herbs (mint, basil, and/or cilantro)
½ cup uncooked orzo
Extra-virgin olive oil, for drizzling
1 cup arugula, packed
¼ cup toasted pine nuts
For the Dressing
2 tablespoons tahini
2 tablespoons extra-virgin olive oil
2 tablespoons fresh lemon juice
1 tablespoon sherry or white wine vinegar
½ teaspoon cumin
½ teaspoon sweet paprika
2 tablespoons water
½ teaspoon sea salt, more to taste
Freshly ground black pepper
In a large bowl, combine the red pepper, mango, cucumber, red onion, garlic, chickpeas, herbs, salt and several grinds of fresh black pepper.
Cook the orzo according to the package directions or until al dente. Drain, gently rinse, toss with a little olive oil and set aside to cool to room temperature before adding to the salad.
Make the dressing. In a small bowl, stir together the tahini, olive oil, lemon juice, vinegar, cumin, sweet paprika, salt and pepper. Add a few tablespoons of water.
Add the orzo, dressing and arugula to the salad and toss to coat. Season to taste and top with toasted pine nuts.
This salad is perfect for saving and serving later. If you do not have some of these ingredients, feel free to get creative with it!